Getting a Motorcycle License in California
Any driver interested in driving a motorcycle in California requires a motorcycle license. You can't just use your standard vehicle driver's license to operate a motorcycle. This article covers the requirements and the process for anyone who wants to know how to get a motorcycle license.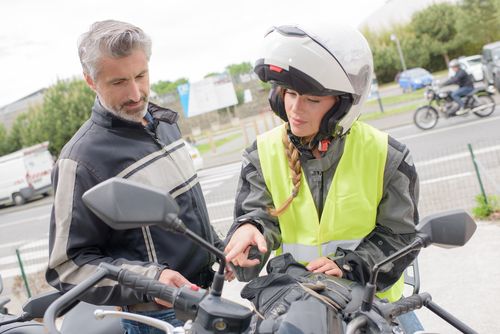 How to Get a Motorcycle License in California
If you wish to learn how to get a motorcycle license in California, it's a good idea to find out as much about the process as possible before you start. A motorcycle license is an important document for you and for other drivers. It provides you with the authorization you need to enjoy the feeling of freedom motorcycle riders get on the road.
California highways and the sunny weather make it appealing to biking enthusiasts. Many biking enthusiasts enjoy the feeling of freedom from riding a motorcycle with the scenic roadways the state has to offer. A sizable percentage of California's motorcycle population is concentrated in the San Diego region. The large number of bikes on the roads make it even more important to learn the state laws and safety precautions you will learn on your path to a motorcycle license.
The first thing you need to know about getting a motorcycle license for riding in the state of California is that every person who requests one isn't qualified. People who have ridden motorcycles for decades dispute the need for licensure but the special license serves a number of important purposes. It allows the state to keep track of the owners and drivers of dangerous equipment on the roads. The state doesn't just hand out motorcycle driver's licenses; it's something you have to work for.
Step 1: Know the Difference Between a Motorcycle License and a Moped License
In California, there are two classes of motorcycle license: M1 and M2. If you want a motorcycle license to ride a full-size, you need to apply for an M1 license. An M2 license only allows you to drive a motorized bicycle, motorized scooter, or a moped.
Every driver applying for either an M1 or M2 motorcycle license will begin with a learner's permit. Applicants under the age of 21 years old must retain their permit for six months before they are allowed to take the driving test. They must also complete a state-approved motorcycle safety course prior to obtaining their motorcycle license. Drivers without a regular driver's license must also provide their social security number, birth date, and legal presence document when applying for their motorcycle driving permit.
Step 2: Prepare for Your Motorcycle Permit Test
California requires applicants for a motorcycle permit test to meet a number of requirements. These include being at least 15-1/2 years of age and successful completion of both driver's education and driver's training. If you are under the age of 15-1/2, you must have your parents' signature on the application.
Obtain a form DL 44 from the DMV and have your parents sign it prior to the test. Prepare for the written motorcycle test by studying the California Motorcycle Handbook and taking practice tests online at the CA DMV.
The number of serious motorcycle accidents that occur in California each year throughout the state is the reason that the process of getting a motorcycle license in CA be a restrictive one. The more prepared you are before getting your California motorcycle license, the safer your driving will be!
Step 3: Schedule an Appointment with Your Local DMV
The process for getting a motorcycle license begins and ends with the local California Department of Motor Vehicles. You will need to make an appointment and arrive on time with the appropriate documentation in-hand. Take proof of identity and if you are under 21, provide proof of having completed a motorcycle safety course.
At the appointment, expect to take the written skills test and motorcycle laws test. In addition, you must pay the $35 learner's permit application fee, pass a vision test, and have a thumb print taken. Don't expect to show up and get your motorcycle driver's permit just by asking for it.
Step 4: Prepare for the Motorcycle Driving Test
Once you receive your motorcycle driving permit, you have up to 12 months to practice your driving skills before taking the driving test. During the period of time that you have a driving permit, you cannot drive your motorcycle at night, on the freeway, or with passengers on-board. If the twelve-month period expires before you take the driving test, you will need to reapply for a new permit and pay the additional fee.
Motorcycle Permit Test in California
To get your motorcycle permit, you will need to schedule a permit test at the DMV well in advance. Do not show up at the DMV without an appointment or without the requirements for getting a motorcycle permit. If you do not meet the requirements or do not have the required documents, you will not be permitted to take the test.
Even with the best preparation, it isn't unusual to be nervous about taking your permit test. It's a big responsibility and the first step in the process for how to get a motorcycle license. Taking a motorcycle permit practice test will help you understand the structure of the test and help you identify areas where you can benefit from additional study. The more you do to prepare, the less chance you have of being nervous or unprepared and possibly failing the test.
The motorcycle permit test contains 25 questions and requires a grade of 80% or higher to pass. Even if you do fail on the first try, you can re-take the test after seven days. Once you pay the initial test fee, you have a total of three chances to take the permit and/or license test within 12 months. That means, if you pass the permit test on the second try, your initial payment still covers your attempts to pass the driving test and get your license as long as it falls within the 12-month time frame.
The best way to improve your chances of getting your motorcycle permit on the first try is to use the resources available to you to prepare for the test. CA DMV offers free practice tests online to help you prepare at no cost. These tests contain real questions like those that appear on the permit test and they encompass a broad range of information. Once you feel confident that you will pass the test, call the DMV to schedule your appointment.
How to Apply for a Motorcycle Permit Test
Start by calling the DMV and asking how to get a motorcycle license to ensure you know all the requirements for the type of license you want and your current age. The learner's permit is an important document that opens the door towards getting a motorcycle license. If you must have your parents' signature on the DL 44 form, you will have to pick it up in advance from the DMV. This document is not available online. Additional documents to take include:
Acceptable forms of ID
Proof of successful completion of a state-approved motorcycle safety course
The DL 44 form signed by your parents if you are under the age of 21
Social security card
Birth record and legal presence document
Prescription eyeglasses if required
How Old Do You Have to Be to Get a Motorcycle License?
The State of California requires drivers to be at least 15-1/2 years old to get their permit and 16 years old to get a motorcycle license. That means, you must drive with a permit for at least six months before you are eligible for your motorcycle license. Additional requirements for drivers under the age of 21 include:
Completed Driver's License or Identification Card Application (Form DL 44) signed by your parents or legal guardians
Proof of successful completion of driver's education
Proof of successful completion of driver's training
Motorcycle Permit Test
To pass the motorcycle permit test, you must answer 20 of the 25 questions correctly. To do this, you need to have an in-depth understanding of the California motorcycle laws and traffic laws. Some of the types of questions you must answer include:
The best course of action when coming upon high risk areas
Safety hazards caused by riding alongside another motorcycle
What happens when you take a turn too fast
Meanings of various road signs
Best types of motorcycle gear
When to gear up or down
Staying observant on the road
Moped License
The broad range of two-wheel vehicles offered today sometimes makes it difficult to know which class of permit and license is right for you. You will need a permit and M2 moped license for a bike fitting the definition of a moped just as you will for an M1 permit and license to legally ride a full-sized motorcycle. If you get a moped license, you are not allowed to drive a motorcycle. However, with an M1 motorcycle permit or license, you can ride any moped, motor scooter, or motorized bicycle without needing an M2 endorsement. A moped or motorized bicycle is defined as:
A two or three wheeled vehicle capable of a maximum speed of 30 mph
May or may not feature pedals that allow human propulsion
Equipped with a motor capable of producing no more than 2 hp as well as a brake and automatic transmission
Has an electric motor either in addition to pedal or exclusive of pedals
Defining Motorcycles
The most significant feature that sets motorcycles apart from mopeds or motorized bicycles is their power. Motorcycles of all sizes and styles are designed for driving in areas where passenger vehicles and commercial vehicles travel at high speeds. They are capable of reaching high speeds similar to those of other passenger vehicles. A motorcycle is defined as:
A vehicle with an engine that is greater than 150cc in size
A motor-powered vehicle with two wheels
Entirely engine powered with no pedals
A vehicle capable of carrying one or two people
Although mopeds and motorized bikes are less powerful than full-size motorcycles, specific laws apply to their use in California just as they do with motorcycles. The processes for getting a moped or motorcycle license are similar and each accomplishes the same thing. It limits the distribution of permits to only those drivers who understand the importance of always observing the laws. By the time you get your motorcycle license, you should have an in-depth understanding of how to drive a motorcycle. You will also need to understand the laws and safe driving techniques to keep you and other drivers and pedestrians safe.
How to Get a Motorcycle License Endorsement in California
The laws that apply to motorcycle permits and licenses differ among the states. In California, the motorcycle license is an endorsement that appears on your regular driving license instead of a separate license. If you do not have a driver's license when applying for your permit, you will need additional documentation when you take your motorcycle permit test.
Even motorcycle drivers who abide by the rules for getting a motorcycle license and who continue to observe the state laws are always at a greater risk of injury in an accident than those in passenger vehicles. The nature of motorcycles also makes the injuries that result more likely to be serious or even fatal.
The impact of a motorcycle accident impacts every area of the injured victim's life. Often, they face overwhelming medical bills and an inability to continue earning an income. For the families of motorcycle riders who die as a result of their injuries, the impact is even greater. They must face the financial difficulties while mourning the loss of their loved one.
If you have been the victim of a motorcycle accident or have lost a loved one to their motorcycle injuries, contact Batta Fulkerson. We will defend your rights and get the compensation you deserve for your injuries. You shouldn't have to pay the price for an accident that is another driver's fault.
---